Guide To The Unknown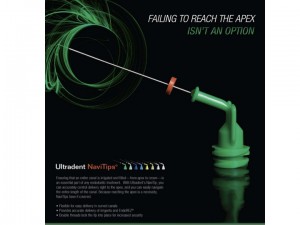 Endodontic practice can either be a boom or a bane in our lives as a practitioner. There just so many unknowns and we are working blind when we are doing it. Tactile sensation, radiographic image and hopefully, if we have the money to buy we have all these confusing gadgets to help us out in our journey into the realm of the pulpal canal. So, a lot of us shy away from practicing it. Human nature dictates that we fear what we don't know. But, what if there are innocuous materials that can guide us what we don't know?
Navitips is such an innovative tips that do guide us to easily and thoroughly incorporate our irrigating solutions and other medicaments into the canal. They become our eyes to the depth of the canal that we can't see even we do use the most expensive microscopes. They make sure you get to wash and place materials in the areas normally impossible before without a greater possibilities of voids. So, the NaviTips is a simple answer to our prayer "Bless Us the Courage to change the things we can change, the Serenity to accept the things we can't and the Wisdom to know the difference". So, have the Courage to change the way we do RCT. You don't need Serenity because you can do change it. And, now that you know, have the Wisdom to really implement it.