Saving Your Precious Working Hands
When we are young or not even that young, but just starting to build our Dental Practice, we try to save as much as possible in acquiring dental materials or equipments or instruments that we think are not that necessary yet.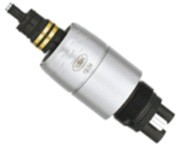 And, most often than not , we start with what we personally use like a face masks, gloves and alike that can provide us true protection for our well-being. Ironically, we, in the medical/dental fields are the worst possible people who can follow our own health advice. Somehow we think that being a doctor or a dentist immunes us from getting sick or having a tooth decay. The worst part of it all, generally speaking, when we do get sick we can't even treat ourselves on our own. I, for one, is very guilty of that, hence, I am paying now for my own stupidity and ignorance, so, here's my advice for those who still got the chance to change their ways…
A small gadget from W&H can save your precious working hands from suffering later on of carpal tunnel syndrome or even worst. It is a coupling that can be attached to your W&H handpieces designed for this particular coupling set-up. Like most of you, I too when I graduated from college, I just bought what I have used during our grueling days of being dental clinicians. We just don't know anything better. As we set up our practice, we learn in a harsh way that our idea of a practice is totally different from reality. So, we cut corners as we are forced to to make ends meet and make our business stay afloat. Unfortunately, what we don't truly realize that by not investing on materials that can also maintain our well being later on, the practice we are building are all for not. As we justify, a facemask is just a facemask, a glove is just a glove and a handpiece is just a handpiece, that's what we all think. But, this way of thinking is farther from the truth. A facemask can save us from contracting airborne viral diseases from patients, a glove can save you from contracting direct contact transfer of one of the worst disease, HIV and a handpiece can save you from retiring early because it can't even hold a cotton pliers let alone a handpiece. It seems that investing on these inane materials are just frivolous. Well, I am telling you now how wrong that is. Investing on a good handpiece that we practically use almost everyday at work is not a waste of money and investing even more for a great handpiece that can save our hands from being worn out earlier than we want to is nothing but frivolous. This small gadget of wonder besides providing the best convenience for you in handling the tool that practically is attached to our hands during our working hours also allows our hands to work without strenuous pressure. Due to its rotating capability, it follows the direction and movement of our hands, thus lessening its fatigue created by the resistance of the stiff tubing where our handpieces are attached. Its simplicity of how it helps us seems inadequate if we put a price on it, but, here's the thing, how much is the price of your work, moreover, your health?