Newsletter August 2015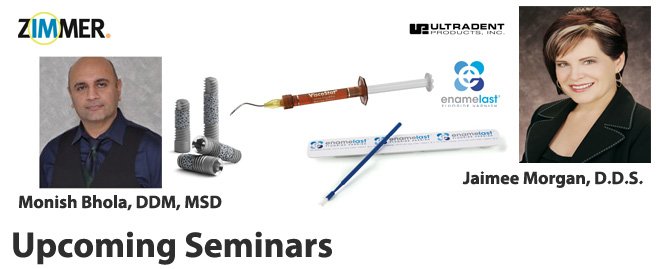 We are certainly making milestones this year. Dental Domain is truly proud that we are offering materials and equipments worthy of practicing dentists. We know that it is always easier to just consider cost when buying materials as we may believe they are all the same, but, really, they are really not.
Although, at the end of the day, it is the talent of the dentist that makes a difference in the treatment but, it is even more advantageous if talent goes with the right tools and materials to deliver them. In the practice of Dentistry it makes it a lot better for the operator and a lot safer for the patient.
On this issue, we will discuss certain product tips from Ultradent and the upcoming big event that will be coming our way on September with no less than one of my favorite American speaker, Dr. Jaimee Morgan.
Best Regards,
Dr. M. Jean V. Galindez, Product Consultant
---
The Double Treat
Conservative Esthetic Dentistry, Composite Resin Bonding and Tooth Whitening
ABOUT THE EVENT
SEPTEMBER 8, 2015 – 8:30 AM – 5:00 PM
Ballroom A – Marco Polo Hotel, Ortigas
Meralco Avenue, Ortigas Center, Pasig City
As the dental pendulum swings back to a more conservative philosophy, composite resin restorations are becoming the favored restorative material.  The dental cosmetic pyramid as developed by Drs. Jaimee Morgan and Stan Presley, provides a practical and easy approach to obtaining optimal esthetic results.  The step by step guidelines are designed for durable, sound, and beautiful restorations regardless of whether these restorations are anterior or posterior applications.
Objectives:
Improve your cases by integrating bleaching, tissue management, and gingival sculpting
Learn new concepts for placement of anterior  and posterior composite resin restorations
Add time saving techniques that also reduce stress, increase profitability, and improve predictability
Expand your knowledge on how to avoid post operative sensitivity
Learn the secret to obtaining a tight interproximal contact
Click
this link
to contact our office via Email oder call us today at (02) 224-1888
ABOUT THE LECTURER
Dr. Jaimee Morgan received her dental degree from the University of Texas Health Science Center at San Antonio. She was recently named one of the top 25 women in Dentistry. She divides her professional career between clinical practice and teaching. Her lectures have spanned the globe from the United States to Europe, South America, Australia and Asia. She regularly contributes articles to dental periodicals and journals on cosmetic dental techniques for the general practice. She has served as a founding member of the South Texas Chapter of the American Academy of Cosmetic Dentistry, and has given numerous lectures at major national dental meetings.
NOT THE FIRST TIME
The very first launching of Dental Domain, we had the pleasure to have Dr. Jaimee Morgan to be our speaker. It was such a success that we wanted her to come back again soon. Unfortunately, she concentrated her time more to her private practice for several years and became quite busy doing lectures only within US and Europe, so, we are ecstatic to have her again after more than 10 years. We hope our clients will take their time to attend our event as you will not only learn how to practice but to achieve the best way there is to be great at it.
Download the course flyer from
this link
[PDF, 2MB]
---
Implant Esthetic Complications and Infections

Implant Esthetic Complications and Infections
Surgical and Prosthetic Solutions
ABOUT THE EVENT
NOVEMBER 26, 2015 – 10:00 AM – 6:00 PM
Auditorium Lung Center of the Philippines
Quezon Ave, Dilliman, Quezon City
This presentation will present the latest guidelines for implant placement to prevent unique esthetic implant complications. Learn the latest about soft tissue biotype, Implants and Grafting including updated Guidelines on Esthetic Treatment Planning.  Learn the Prevention and Management of Implant Infections, the etiology and classification of Peri-Implant Disease and the clinical presentation of various types of Implant Infections including Retro-Grade Peri-implantitis.
Click this link to contact our office via Email oder call us today at (02) 224-1888
ABOUT THE LECTURER
Dr. Bhola is a Diplomate of the American Board of Periodontology. He received his D.D.S. from University of Detroit Mercy School of Dentistry and his certificate and M.S.D. in Periodontics and Implantology from Indiana University School of Dentistry. Dr. Bhola is the former Director of Post-Graduate Periodontics and has been practicing Clinical Periodontics and Implant Dentistry for the past eighteen years. His areas of interest include dental implants, oral plastic surgery and advanced bone and soft tissue grafting for teeth and implants. He is the author and developer ofthe new and innovative LipStaT®  procedure for correcting a gummy smile.
---
ZIMMER Comprehensive Course on Dental Implantology
Course Fee: P 78,000.00 · Cash Discount: P 70,000.00
Payment Terms: ten equal payments
Course fee includes hands-on materials (implant, healing collar, indirect transfer and abutment),
three implant bodies, education materials, scrub suit and meals
Venue:
Training Center of Dental Domain Corp, 04 Ledesma Court, Visayas Avenue, Quezon City
Call the course manager Christel Lanot at (02) 224-1888 (loc. 388) or 0917-8110903
---
5 Top Ultradent Product Tips
Every week, we get to receive product tips from Ultradent, so, we can in return inform our clients how they can maximize the materials they buy from us. This is critical so our clients can get their money's worth. However, not all do visit Dental Domain websites and not all certainly have the time nor the patience to read our blogs. So, here are the Top 5 Product Tips that I am sure will go a long way to assist you in making the most out of your materials from Ultradent:
(1) Will Astringedent compromise bond strengths with self-etch bonding? Will ViscoStat Clear with aluminum chloride work differently with a self-etch bond? Ferric sulfate is used in the presence of blood, so as part of the coagulum it can impair the bond strength if not properly cleaned/soured off (Consepsis Scrub). This is a contamination / isolation issue. ViscoStat Clear is not as likely to reduce bond strength for those dentists. After power rinsing with any ViscoStat product, dry the tooth and then apply Consepsis before Ultra-Etch or/and SE products. For regular bonding where ViscoStat is not is used, apply Consepsis AFTER Ultra-Etch, but before any SE product.

(2) Did you know that Peak Universal Bond should always be light cured before layering composite and luting veneers? A number of clinicians are using a new technique that involves waiting to cure the bonding adhesive until after the first layer of composite is placed. We do not recommend this with Peak Universal Bond. Our internal testing reveals that the bond strength becomes jeopardized when Peak is not light cured before the composite is placed. We also tested this with PermaShade® LC and the results were the same. The concern related to veneers was that that light curing the adhesive first might produce a thick layer that would affect the fit of the restoration. Because Peak is only 7% filled, film thickness should not be a concern, especially because it can be thinned to as low as 2µm if needed. Although it may seem more efficient to cure the bonding adhesive at the same time as the composite or the veneer cement, the bond strengths will be 13% to 30% weaker if you don't light cure first! This data reinforces why it's important to follow Ultradent's recommended instructions; using the proper techniques will ensure optimal bond strengths and quality restorations.
(3) Did you know that calcium hydroxide is a popular temporary medication used to disinfect root canals, and has been shown to be effective in a wide variety of situations? The antibacterial effect is partly due to the fact that it produces a pH over 11, preventing the growth and survival of oral bacteria. The main advantage of calcium hydroxide is that it has an effect on microorganisms in the absence of direct contact, not only by creating a high pH environment but also by absorbing CO2 required for bacterial growth.
The best technique for using calcium hydroxide is to place and condense the paste into the canals. Historically, this has been done with the same instrumentation files or engine driven paste carriers, and can be difficult to execute―especially when working with very narrow or curved canals. UltraCal XS from Ultradent Products Inc. is an aqueous, radiopaque formulation of non-setting calcium hydroxide paste with a pH of 12.5. This premixed paste is delivered or "injected" from a syringe through a 29ga NaviTip delivery tip directly into the canal. As well as producing a more reliable result, especially in posterior teeth, the placing of calcium hydroxide with a 29ga NaviTip eliminates possibility of separating a spiral instrument during the procedure.
When there is instrument separation in the canal it is troublesome for the treating dentist and may possibly require the involvement of a specialist. UlraCal XS allows the operator to deliver the correct amount of calcium hydroxide to the working length, preventing any material to be inadvertently extruded past the foramen into the periradicular tissues, especially if a chronic or large lesion is present.
(4) What is the benefit of the super hydrophilic properties in Chromaclone PVS'? PVS materials can be hydrophobic (doesn't work well in the presence of water) or hydrophilic (works better in the presence of water). Since Chromaclone PVS is super hydrophilic, its branched chemistry will work in the presence of moisture.

(5) How long does it take Consepsis to disinfect an area? Consepsis, a 2% chlorhexidine solution, disinfects a surface after 5–10 minutes of contact. If it is not rinsed off in a tooth, it can provide bactericidal activity for up to two days. A one-minute application of Consepsis has also proven to be efficacious when used in pulp capping procedures, even with purposeful bacterial contamination prior to application.
---
How to Prevent Staining Under Provisional Cements by: Walker Shalyse
Many clinicians encounter the dark staining of a patient's tissues after the use of a hydrophobic cement. Fortunately, this is a challenge that is treatable, and even better, preventable! First, let's take a look at the reasons behind why this pesky staining occurs in the first place.
It's all about the chemistry. Non-sealing cements allow saliva and bacteria to move between the temporary and preparation. Coagulum within cut tissues is a source of iron, which reacts with the hydrogen sulfide gas (rotten egg gas, H2S) produced by anaerobic bacteria in this septic environment. The reaction yields ferric sulfide—the harmless, yet annoying dark surface stain.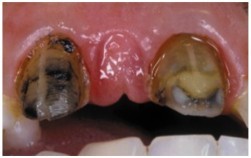 This staining can also occur, to a lesser degree, from the natural iron in the blood. Additionally, non-sealing provisionals are problematic, as the presence of saliva and/or bacteria removes the smear layer within one week, opening tubules to bacteria.
One way to prevent this from occurring is to use an antimicrobial temporary cement (like ZOE), which leaks, but at least prevents bacterial growth, hence no H2S and no formation of ferric sulfide. However, there's an even better way to go about it.
The most sure-fire way to prevent staining under provisional cement is to use a sealing, hydrophilic, non-eugenol, polycarboxylate, paste-to-paste cement like Ultradent's UltraTemp.
As an extra precautionary measure (as similar staining can still occur if contamination is on the preparation prior to bonding) scour and/or etch as needed prior to DBA application. For scouring, we recommend using Consepsis Scrub with the STARbrush.