Chromaclone PVS: A Distinguished Impression
Dental impression is one of the critical steps for dentists to be able to create the exact replica of the oral environment of their patients so as replacement for their patients' prosthesis will fit and look as natural as possible. No matter how great the dentist and their dental technicians are without a good dental impression the final indirect restoration won't be achieved. Through the years manufacturers tried to create materials that will address precisely this issue. Currently, digital impressions is introduced in the market, however, majority of dental practitioners don't have access to this technology yet or even the know how, thus, a good impression material is still a must. Ultradent created the next best thing…the Chromaclone PVS…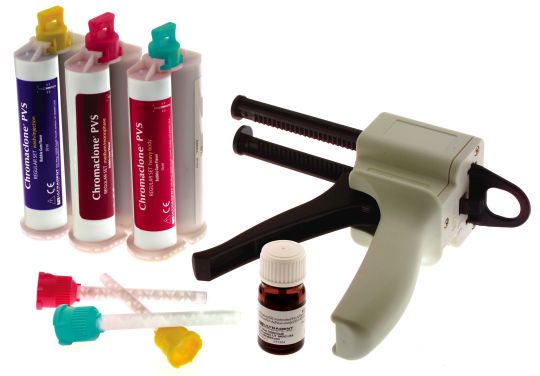 Chromaclone PVS contains a special three-dimensional resin. It has an advanced PVS chemistry with special resins (non-linear resins that combine with hydrophilic surfactants). This is called PVQ technology. This impression material captures even the smallest details, enabling you to make effective impressions the first time, every time. Its extremely low contact angle allows it to flow deep into the sulcus for highly visible margins.
The material is super hydrophilic not only during application, but also during immediate pouring of gypsum. It contains special reinforcing branched silicone resins for superior tear resistance so impressions can be easily removed. And its elastic recovery ensures dimensional stability for weeks, allowing you to pour at your convenience.
Moreover, with the Bubble Gum flavor gives more pleasing experience to the patient which normally in impression taking causes gagging effect on them due to bad taste or over extension of material in the palatal area.
Here are the great things about Chromaclone PVS that makes a distinguishing mark as an impression material of choice for dentists:
Hydrophilic and thixotropic
Dimensionally stable with great elastic recovery
Allows you to pour at your convenience
Tear resistant
Accurate with multiple pours
Time in mouth: 2–3 minutes (Fast Set) and 3–4 minutes(Regular Set)
Bubble Gum flavor