Jiffy Finishing Line
Ever since we were taught how to do restoration, polishing and finishing are always an integral part of it. Its significance is not only for its esthetic value but for making sure everything are properly adapted that will provide a functional stability to the restoration. We would like that our polishers and finishers will not only give us the esthetic value with minimal hassle but will not affect the characterization we did on our restoration as well. Jiffy Polishers and Finishers available in cups, disks and points including in brush forms are tried and tested all these years. In fact it's been a reality choice awardee from 2009-2014.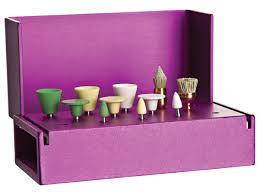 To maximize the value of these polishers, do not short cut the steps. As a dentist, you spend time and effort creating natural looking composite restorations, but all that work can be of little use if the composite is not polished correctly. The nuances of your restoration can be completely destroyed by trying to use just one shortcut polisher to shape and finish your restorations. By using the sequence of tools in Ultradent's Jiffy Finishing Line, you'll be able to achieve a natural finish easily – without getting shortcut results. Jiffy Finishing Line offers a step by step process to achieve the most natural looking finish possible. Using these products in the correct sequence gives a consistently gorgeous finish.

Using Jiffy polishers and finishing have the following features and benefits:
Autoclavable
Abrasive, silicon-impregnated rubber
Available in three grits
Not made with natural rubber latex
Excellent for contouring, finishing, and polishing composites such as Amelogen® Plus and Vit-l-escence
It will even better if you will include on the mix Ultradent Diamond Polishing Paste that's available in 0.5μm and 1 μm micron sizes.


This will not only create a much spectacular esthetic outcome but it will also assist in minimizing the heat generation that occurs if you don't control the pressure and speed of your air motor while polishing. Here are its features and benefits:
High-grade white microcrystalline diamond particles
Unsurpassed esthetic polish
Ideal for porcelain or composite restorations
For use with Jiffy® brushes and felt wheels
Mint flavored​
Make your restoration different by just making sure you practice one last simple step and achieve the jiffy finishing line beauty of restoration. Do it and see it for yourself.