Really…No Need for Light to be White!
There has been too much advertising already on how it is so much effective or fast to use light for tooth whitening. But, really, nothing is much farther from the truth. The truth is Tooth whitening is a process done by oxidation through the efficacy of its ingredient, hydrogen peroxide. Depending on its concentration defines its effectivity and modality. So, what's light got to do with it? Short of saying it is for marketing sake, it works to activate the hydrogen peroxide content of the tooth whitening material that is light activated. Its premise is to ensure that the hydrogen peroxide will only get activated when it is already being used on the teeth. Again, why is that important? Because hydrogen peroxide's nature is very volatile, so, if it is already activated before use its potency may lessen. If that is the case is there an alternative way? Of course, there is. Dentists need not to invest so much in buying light that actually doesn't have a direct bearing on how white can it be white. And, patients need not to pay for its cost.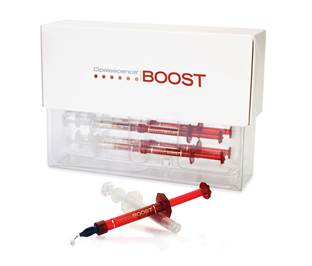 Ultradent Products, Inc., the gold standard of tooth whitening manufacturer, has been saying all along that you don't need light to achieve effective Tooth Whitening treatment. So, to address the issue of freshness and maintenance of potency of the hydrogen peroxide which is the active ingredient of tooth whitening material that is critical for its result, it released the Opalescence Boost. Opalescence Boost is a chemically activated power whitening gel that provides brighter, whiter teeth after just 40 minutes in the dental chair. The powerful 40% hydrogen peroxide gel is chemically activated, so it doesn't require a hot, uncomfortable light to work. Using the unique double-syringe configuration, the clinician activates the 40% hydrogen peroxide formula just prior to application, ensuring every dose of Opalescence Boost is fresh and effective. However, refrigeration is recommended in order to maximize the shelf life of the product. Technically, all of whitening products should be refrigerated, but since Boost has a higher concentration of H2O2 than the other products, it is more reactive and therefore better preserved when refrigerated.
The whole range of Opalescence Tooth Whitening Products are among the most stable whitening products in the industry, maintaining virtually all of its effectiveness over the course of its shelf life. Because delivery times vary depending on the location of each particular dental office, Opalescence products are formulated with transit time in mind, so they remain stable even after being shipped across the country. In fact, stability studies performed on Opalescence tooth whitening gels have shown that the peroxide potency at the end of the product's shelf life is consistently 90% or greater.
It is the hydrogen peroxide that makes the teeth white. So, knowing what you know now…really…do you still need light to have a whiter teeth?