The Expertise of ExperTemp
It is always challenging to find great materials that will allow us to have good result and at the same time less hassle in its manipulation and handling. For General Practitioners and Prosthodotists, it is critical to have provisional materials that will assist them in making it possible for their patients to go home and have at least a set of temporary teeth not only for esthetic reasons but functional ones. Whether with grueling hours of preparing a long span bridge or short time to prepare the tooth for crown, the situation remains the same, that Dentists will need to provide temporary tooth or teeth to their patients and, hopefully, this process will not be difficult. ExperTemp of Ultradent is such a material because it is designed to mimic the esthetics and function of natural dentition. Moreover, it is packaged and delivered with minimal or nil difficulty for Dentists.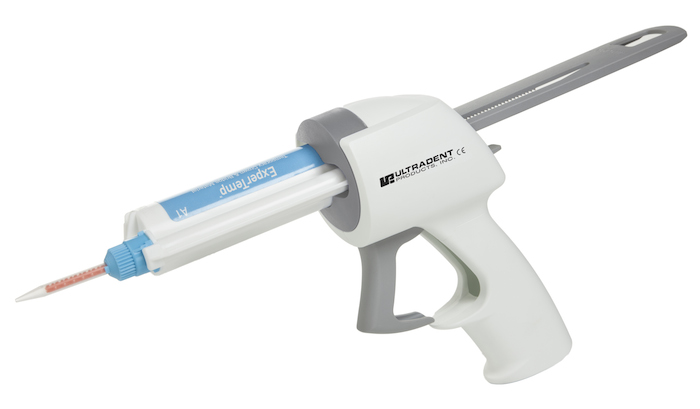 ExperTemp is a bis-acryl composite provisional material used to fabricate temporary crowns, bridges, inlays and onlays, as well as long-term temporaries, and will keep your patients' smiles beautiful every step of the way.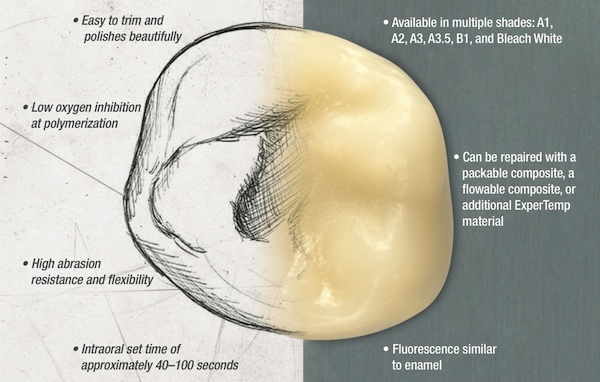 Easy to trim and polishes beautifully
Low oxygen inhibition at polymerization
High abrasion resistance and flexibility
Available in multiple shades: A1, A2, A3, A3.5, B1, and Bleach White
Intraoral set time of approximately 40–100 seconds
Can be repaired with a packable composite, a flowable composite, or additional ExperTemp material
Fluorescence similar to enamel.
Moreover, ExperTemp not only provide all the esthetic value but also our internal testing shows that provisionals made from ExperTemp will reach optimal hardness in a shorter amount of time than those made from major competitor materials. This means that the temporary restoration can handle the full stress biting forces after about two hours, which is about the same amount of time it takes for a patient's anesthesia to wear off.
What more can a Dentist ask for? Truly, ExperTemp will provide you an expert way of giving temporary crown or bridge to your patients with minimal hassle to you and the Esthetic and Functional value to your patients.
expertemp temporary bridge, expertemp temporary crown, expertemp temporary crown and bridge material, temporary bridge material, temporary crown material