Unicore Post and Drill System: A Perfect Combination
Teeth that have short clinical crown, those that are severely mutilated due to caries, trauma or even as a result of previous large restorations, dental cases of evident horizontal loss of clinical crown, and other clinical cases wherein the teeth are unable to retain the final restoration without some additional support are generally treated with a post and core build up following endodontic treatment. This provides great assistance for retaining and supporting future restoration and has been very popular and widely choice of treatment for a long time already. As a result there's an increase for demand on tooth-colored posts. Recently, conventional metallic posts are gradually being replaced by various non-metallic posts. These are epoxy resin posts reinforced with carbon fibers, epoxy or methacrylate resin posts reinforced with quartz or glass fibers, zirconia posts, and polyethylene fiber-reinforced posts are the most popular choice of materials used for Post & Core System. Ultradent developed a post and core system to provide an even better choice for dentists. A perfect combination for easy access, placement and support to your final restoration, introducing Unicore.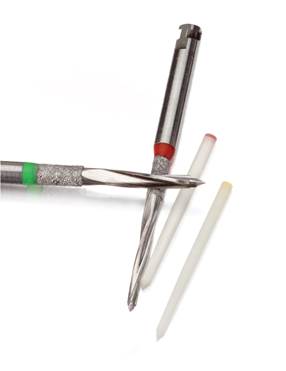 UniCore posts are composed of glass fibers. The translucent and radiopaque UniCore Post responds to compressive forces as dentin would, without compromising the durability of the restoration. The gentle taper of the UniCore Post corresponds to the natural anatomy of the tooth and perfectly matches the post space created by the UniCore Drill. The five sizes and colors of UniCore Posts correspond to those of the UniCore Drill. The UniCore Drill is unique in its ability to remove obturators while preparing a post chamber that perfectly corresponds to its post. The UniCore drill features a patented heat-generating tip, which facilitates the removal of fiber posts, rigid carriers, and traditional gutta percha. The drill's heat-dissipating, diamond-coated collar preserves tooth structure, and its specially designed flutes cut canal walls laterally instead of vertically.
Superior strength
Esthetic and radiopaque
Color-matched drills and posts
Autoclavable as packaged
Ultradent's UniCore "Kit of Kits" provides all items needed for post requirements
UniCore drill is safe and easy to use
UniCore posts are made of prestressed fibers and are bondable
They are the perfect match for your post and core needs for a better successful treatment to your patients. A match in heaven indeed…