Nature knows best – GC Tooth Mousse Plus
Nature knows best
GC Tooth Mousse Plus contains 10% RECALDENT™ (CPP-ACP) and 900 ppm fluoride in a formulation designed to deliver CPP-ACPF (casein phosphopeptide amorphous calcium phosphate fluoride) to the tooth surface.
GC Tooth Mousse Plus is the most effective technology for creating fluorapatite and is the first choice for protecting and strengthening teeth and for reversing white spot lesions.
Ask your GC representative today.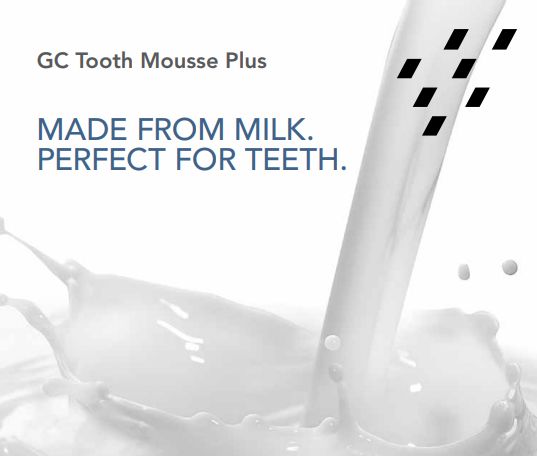 Recaldent™ is derived from the milk protein, casein. For many years it has been known that milk and its derivatives have a tooth protective effect. Research has shown that this activity is due to a part of the casein protein called Casein Phosphopeptide (or CPP), which carries calcium and phosphate ions in the form of Amorphous Calcium Phosphate (or ACP).
Tooth Mousse, the first product for professional use to contain this complex of CPP-ACP (Recaldent™), is the ideal delivery system for bio-available calcium and phosphate ions. Tooth Mousse Plus in addition contains a unique, patented form of fluoride. Tooth Mousse Plus releases all three of the ions needed to form acid-resistant fluorapatite by BOTH remineralisation and fluoridation.
CPP-ACP was developed at the School of Dental Science at the University of Melbourne Victoria/ Australia. Recaldent™ is a trade mark used under license. Recaldent™ (CPP-ACP) is derived from milk casein. Do not use on patients with a milk protein and/ or hydroxybenzoates allergy.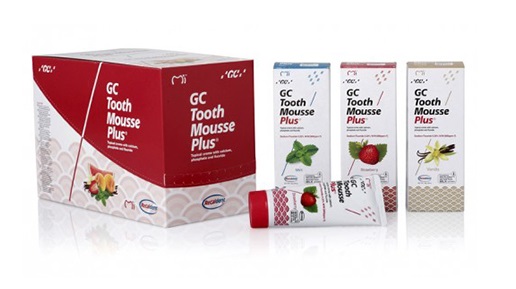 Watch the different forms of using Tooth Mousse in the video below, first tray application at the dental office, 2nd finger application for home use.