Hygiene Guard Pro – Dental aerosol suction system
Dental treatment generates bioaerosols from the patient's mouth that contains several hundreds of micro-organisms. These aerosols generated during the treatment can stay in the air for several hours with the potential to infect health care professionals.
The Hygiene Guard Pro Aerosol Suction System reduces the infection risks and purifies the air using a 4 step filtration system (Activated Carbon + HEPA high precision Filters, H13 grade) with build-in UV protection and plasma sterilisation. It traps viruses and germs ≥0.3 μm with over 99.97% efficiency thus reduces the risk of cross infection between doctors and patients, protect respiratory health and reduces the risc of COVID-19 infections.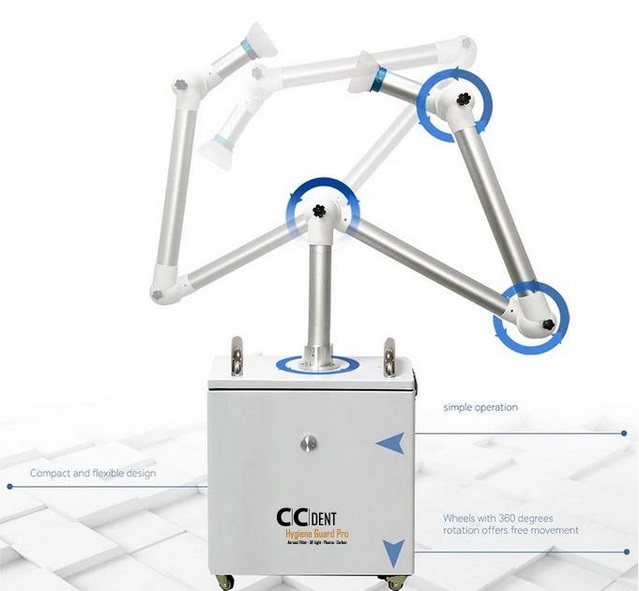 Features:

Strong turbine brushless suction motor delivers high suction performance thus low noise.
Equipped with a wide-mouth suction hood, collect the harmful moist immediately at the source
High surface area for filtration so larger area for contaminated air to be cleaned
Freely movable arm offers ease of access and the suction cup can be positioned at virtually any angle
Compact, flexible design with simple operation
Lighter than many other units
Portable with wheels so can be easily moved between rooms
Quiet operation, only 55dBa, low power consumption
Medical grade UV sterilisation
Additional filters available for purchase
comes with 2 interchangeable suction cups/nozzles of different size/shape