Whitening Materials from Ultradent Products, Inc. stands for its outstanding industry leadership and contributions to the dental community. Dental Domain is your exclusive partner for these unique products in the Philippines:
Opalescence® PF 10% 15% 20% and 35%
CARBAMIDE PEROXIDE WITH POTASSIUM NITRATE & FLUORIDE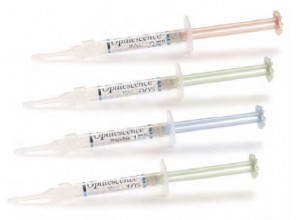 Opalescence® 10%
CARBAMIDE PEROXIDE
Patented, sticky, viscous PF (potassium nitrate and fluoride) gel
PF (potassium nitrate and fluoride) for stronger enamel, decreased sensitivity and caries prevention
20% water helps prevent dehydration and shade relapse
University study proves gel stays active for 8-10 hours during overnight bleaching7
Various wear times depending on concentrations – 35% is recommended for only 30 minutes once a day
Opalescence is recommended for whitening discolored teeth prior to placement of composite, veneers, and/or crowns. Opalescence is effective in removing some or all of the internal tooth discolorations due to congenital, systemic, pharmacologic, traumatic, etc., factors and aging. Great success with fluorosis and even tetracycline staining. The Opalescence sticky formula does not leach from the tray like other bleaching gels.2 Patients experience results quickly, which motivates them to pursue the treatment. Vital teeth whitened with Opalescence remain lighter for years. Opalescence is available in a variety of concentrations, formulations, flavors and kit configurations to meet all your whitening needs.
Opalescence® Boost
IN-OFFICE POWER WHITENING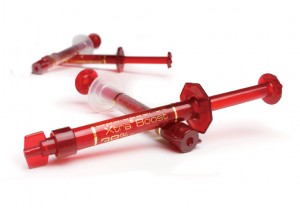 Chemically activated—NO LIGHT IS NEEDED!
38% hydrogen peroxide power bleaching gel
Contains PF (potassium nitrate and fluoride),
which has been proven to reduce caries susceptibility, lower sensitivity and improve the micro hardness of the enamel
Syringe-to-syringe mixing with the new JetMix syringe provides fresh chemicals for each application and an exact dose of the activator for the most effective product possible
Distinct red color aids in proper placement and ensures complete removal
Opalescence Boost offers the convenience of syringe delivery, plus the bleaching power of activated 38% hydrogen peroxide. Mix to activatethe product just prior to application. Activated gel is then applied to teeth for whitening–WITHOUT A LIGHT!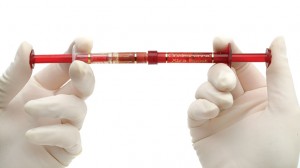 Opalescence® Follow-up Kits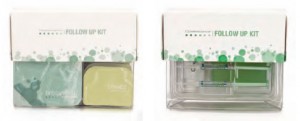 Prefilled disposable trays or syringes to use with custom trays
Follow-up to in-office whitening ensures the most complete treatment, including UltraEZ for sensitivity
Contains potassium nitrate and fluoride
The Opalescence family offers two follow-up options. Opalescence Trèswhite Supreme is a great follow-up to in-office whitening, because you can provide your patients with a professional product without the cost or time of impressions, models, or lab time. On the other hand, the Opalescence Take-Home Follow-up kit offers a more customized treatment with syringes and custom trays.
Opalescence® Trèswhite Supreme
PRE-LOADED WHITENING TRAYS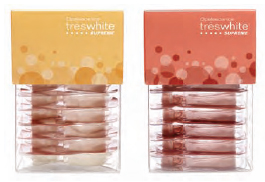 PF (potassium nitrate and fluoride) for stronger enamel, decreased sensitivity and caries prevention
10% hydrogen peroxide for a fast, effective whitening treatment
Available in 2 flavors – Melon and Peach
Enhanced tray design a sleeker more comfortable fit
Soft, thin internal tray material comfortably adapts to fit any smile, so you hardly know its there
Wear 30-60 minutes, once a day, for results in 5-10 days
IsoBlock®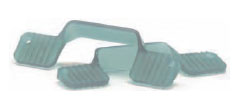 Disposable
Extremely comfortable
Eases TMJ strain
Bilateral support with tongue restraint
OpalDam®
LIGHT-CURED RESIN BARRIER

Passively adhesive (sealing)
Methacrylate-based
OpalDam is a light-reflecting resin barrier for isolating tissue adjacent to teeth being whitened. For single tooth bleaching, OpalDam may be used to protect adjacent teeth.
Opalescence® Quick® PF 45%
RECEPTION/WAITING ROOM WHITENER

45% sticky, viscous carbamide peroxide gel
PF (potassium nitrate and fluoride) for stronger enamel, decreased sensitivity and caries prevention
Office supervised and tray delivered
No gingival protection required
Great for jump starts and touch-ups
Treatment time 30 minutes
Opalustre®
CHEMICAL & MECHANICAL ABRASION SLURRY

Recommended for fluorosis
Removes superficial white and brown stains
6.6 hypochloric acid aids in chemical stain removal
Silicon carbide micro-particles provide gentle mechanical abrasion
Less than 0.2mm enamel removal
Syringe delivered for quick and easy application
Viscous
Opalescence®Whitening Toothpaste

Unique formula allows efficient, quick fluoride release
Highest enamel fluoride uptake2
Maximum enamel & dentin restoration protection3
Opalescence Toothpaste is excellent for patients who want to preserve the shade of their whitened teeth. Its fresh flavor and unique formula maximizes fluoride uptake into enamel while removing surface stain at the lowest abrasive levels.
Opalescence® Endo®
WALKING BLEACH

35% hydrogen peroxide – Designed for "walking bleach" technique
UltraEZ®
SUSTAINED RELEASE POTASSIUM NITRATE GEL WITH FLUORIDE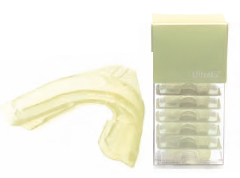 Quickly eliminate sensitivity from toothbrush abrasion, thermal and chemical changes, tooth bleaching and root exposure. Pre-loaded trays hold the gel in direct contact with teeth. Available in syringes
or pre-loaded trays
Flor-Opal®
SUSTAINED RELEASE FLUORIDE GEL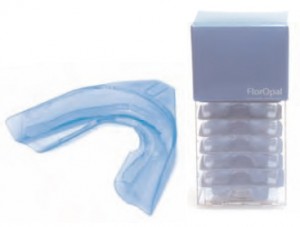 A unique sustained release source of 0.5% fluoride ion in a sticky viscous gel (1.1% Neutral NaF). Desensitizing comes slower but lasts longer than with UltraEZ. Also great for caries prone patients.
Available in syringes or pre-loaded trays
Ultradent® LC Block-Out Resin

Low viscosity
Blue pigment
Provides reservoir space for bleaching trays
Use for other laboratory procedures
Great utility resin2
Attach Black Mini tip to LC Block-Out resin and apply where needed.
Sof-Tray® Classic Sheets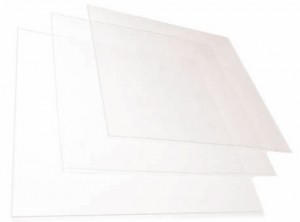 The 0.035″ for most bleaching trays, the 0.060″ for bleaching patients who are bruxers, and the 0.080″ for severe bruxers or as a TMJ appliance.