Whitening Materials from Ultradent Products, Inc. stands for its outstanding industry leadership and contributions to the dental community. Dental Domain is your exclusive partner for these unique products in the Philippines:
Opalescence™ Boost™
In-Office Power Whitener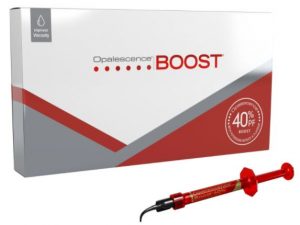 Opalescence Boost in-office power whitener is a chemically activated gel that provides brighter, whiter teeth after about an hour in the dental chair. The powerful 40% hydrogen peroxide gel is chemically activated, so it doesn't require a hot, uncomfortable light to work. Using the unique double-syringe configuration, the clinician activates the 40% hydrogen peroxide formula just prior to application, ensuring every dose of Opalescence Boost whitening is fresh and effective.
Chemically activated, so no light is needed
Powerful 40% hydrogen peroxide gel
Opalescence tooth whitening gel contains PF (potassium nitrate and fluoride)
Fresh chemical for each application
Precise delivery
Easy to see for complete removal
Two to three 20-minute applications
Thicker formula prevents the gel from running
No refrigeration required prior to mixing

Award-winning Opalescence Boost in-office teeth whitening gel is the best way to whiten teeth quickly. With just two or three 20-minute treatments its powerful 40% hydrogen peroxide formula provides instantly noticeable results. It is perfect for patients who want to get whiter teeth fast, who have particularly difficult stains to remove, or who have an important event around the corner that requires a bright, white smile.
Trust the experts. With over 30 years of experience, more than 50 teeth whitening awards earned, and over 100 million smiles brightened, Opalescence teeth whitening is the #1 professional teeth whitening brand on the planet.

OpalDam™ Green
Light-Cured Resin Barriers


OpalDam light-cured resin barrier is a passively adhesive (sealing) methacrylate-based resin barrier used for isolating tissue adjacent to teeth being whitened. For single-tooth whitening, it may be used to protect adjacent teeth. OpalDam resin barrier is light reflecting to minimize heat and tissue sensitivity during curing. OpalDam Green resin barrier ensures a safe, unmistakable barrier every time
Easy to Place – OpalDam Green resin barrier are easily expressed directly where they're needed in the mouth via the simple syringe-and-tip delivery
Easy to Remove – Simply use an explorer or other instrument to cleanly break the cured resin from undercuts and discard
Perfect for In-Office Whitening Procedures
In addition to the traditional use with whitening procedures, OpalDam Green resin barriers are extremely versatile and can be used:
To prevent saliva leakage around the rubber dam clamp
To help hold a matrix in place around a severely compromised tooth
To protect the soft tissue from air abrasion
Any time you're using a harsh chemical near the tissue
Protects Soft Tissues
OpalDam and OpalDam Green resin barriers can be used to protect the soft tissues any time a harsh chemical is used nearby.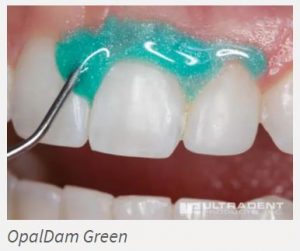 Seal Matrices into Place
When a matrix doesn't fit well around a severely compromised tooth, use OpalDam or OpalDam Green resin barriers to hold the matrix in place.
Opalescence Go™
Prefilled Whitening Trays – 10% & 15% Hydrogen Peroxide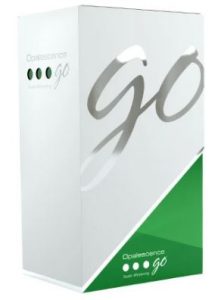 Opalescence Go take-home whitening system is recommended for patients looking for professional whitening to go or as an alternative to over-the-counter whitening products. With no impressions, models, or lab time required, Opalescence Go whitening trays are also a perfect follow-up to in-office whitening.
Unique UltraFit™ tray material offers a remarkably comfortable fit and easily conforms to any patient's smile
Molar-to-molar coverage whitens the entire smile
Opalescence tooth whitening gel contains PF (potassium nitrate and fluoride)
Opalescence Go whitening gel is designed to maximize patient comfort
Convenient prefilled trays can be worn right out of the package
Optimal gel quantity allows easy cleanup after whitening
10% – wear 30–60 minutes for 5–10 days; 15% – wear 15–20 minutes for 5–10 days
Opalescence Go tooth whitening gel contains PF (potassium nitrate and fluoride)

Award-Winning Convenience from the Global Leaders in Teeth Whitening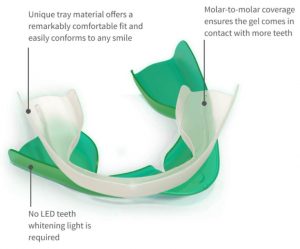 Opalescence Go prefilled teeth whitening trays are the answer for your patients who desire the best teeth whitening experience no matter where they go. Opalescence Go teeth whitening trays can be carried in a pocket or bag and worn right out of the package. The UltraFit™ tray is made of a discreet material designed to maximize patient comfort, and is prefilled with the optimal amount of teeth whitening gel. This makes it possible for your patients to whiten when and where they want. With no need for impressions, models, lab time, custom trays, or LED teeth whitening lights, Opalescence Go teeth whitening trays are easy and convenient for doctor and patient alike.
Ultradent™ LC Block-Out Resin

Ultradent LC Block-Out Resin provides reservoir space for bleaching trays. It's also useful for other laboratory procedures such as model and die repairs. Ultradent LC Block-Out Resin can be rapidly and efficiently delivered with the Black Mini™ tip. It must be light cured and is not intended for intraoral use.
Low viscosity for easy flow
Blue pigment for easy visibility
Great utility resin with numerous uses
Create Reservoir Spaces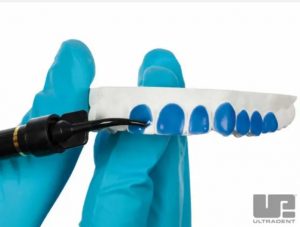 Block Out Undercuts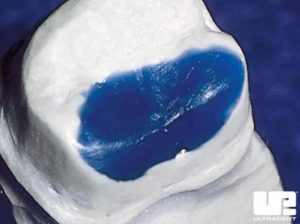 Opalescence™ Endo
Non-Vital "Walking Bleach"


Opalescence Endo non-vital whitening gel is formulated specifically to whiten endodontically treated discolored teeth using the "walking bleach" technique. Once Opalescence Endo gel is delivered to the pulp chamber, it should be sealed with a temporary cement, and left in the tooth for one to five days.
35% hydrogen peroxide
Easy to place inside pulp chamber
1–5 day treatment
Before and After Opalescence Endo Non-Vital Whitening Gel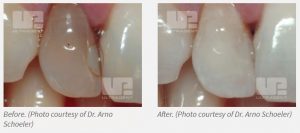 UltraEZ™
Desensitizing Gel with Potassium Nitrate and Fluoride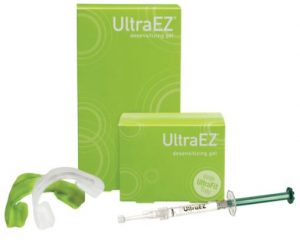 UltraEZ gel quickly treats sensitivity from tooth whitening, thermal and chemical changes, root exposure, and toothbrush abrasion. Its sustained-release potassium nitrate and fluoride formula provides immediate results to help your patients stop being so sensitive. Available in both syringes and prefilled, disposable trays.
Quickly treats sensitivity from tooth whitening, toothbrush abrasion, root exposure, and thermal and chemical changes
Features potassium nitrate and fluoride, which have been shown to help decrease sensitivity1
Available in disposable, prefilled trays as well as in syringes for use with custom trays
Prefilled UltraFit™ tray adapts to any smile for a comfortable fit
Can be used before and after whitening treatments