Vit-l-escenceTM& Vit-l-escenceTM Singles
ESTHETIC RESTORATIVE MATERIAL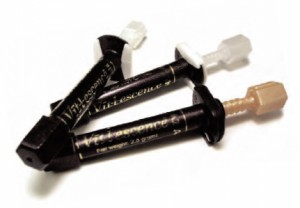 Natural fluorescence and opalescence
Micro-hybrid average particle 0.7μm*
Unique all-composite shade guide
Strength and wear resistance of a hybrid with the beauty and polishability of a microfill
Superior creamy handling characteristics
Radiopaque
Vit-l-escence is a Bis-GMA based, natural fluorescent and opalescent (like natural tooth structure), esthetic composite system. Vit-l-escence is ideal for anterior composite restorations including direct veneers. Its strength and wear resistance make it the composite of choice for posterior restorations. It is the low-translucency, highly fluorescent dentin shades combined with the high-translucency, opalescent/translucent enamel shades that facilitate superior reproduction of natural teeth. Handling properties are outstanding. The unique custom shade guide facilitates superior shade matching
as well as determining the degree of translucency needed.
Amelogen® Plus
COMPOSITE RESTORATIVE MATERIAL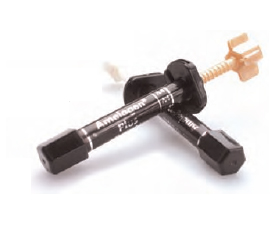 15 shades for a simple composite system
Excellent, non-slumping consistency
Superior polish
Radiopaque
76% filled by weight
0.7μm maximum particle size
Amelogen Plus is a state-of-the-art Bis-GMA, radiopaque material for Class I, II, III, IV, V, VI restorations and direct veneers. It possesses wear resistance, strength and polishability making this simple composite system the perfect material for both posterior and anterior restorations. It also displays exceptional handling, optical and polishing characteristics. The material won't stick to instruments or slump providing extra control in handling.
Composite Wetting Resin

Super adaptive
45% filled light cure, liquid resin
Use during the incremental layering of composite materials.  Recommended for use when the oxygen inhibition layer has been removed or disturbed (e.g. washing of the composite surface following contamination). Composite Wetting Resin may be placed on the composite surface if it has become dry when contouring composite. Use on instrument or brush to enhance glide. Greatly facilitates adaptation of composite restoration and preparation.
PermaFlo®
FLOWABLE COMPOSITE

Thixotropic with low film thickness
Radiopaque
8 tooth-colored shades
Superior polishability
68% filled by weight
PermaFlo is a light-cured, radiopaque, methacrylate-based, flowable composite. (PermaFlo contains filler with an average particle size of 0.7μm.) Use for anterior and posterior restorations: Class I, II, III, IV and V. Can also be used to restore missing subgingival tooth structure prior to endodontic procedures (the "Donut Technique").
PermaFlo® Pink

PermaFlo Pink is used for Class V restorations where root structure is exposed and can mask gingival recession.
PermaFlo® Purple

PermaFlo Purple was developed by endodontists Dr. Fred Barnett and Dr. Ken Serota. Using adhesive dentistry concepts, PermaFlo Purple creates an interim coronal seal. It is colored to simplify location of the pulp chamber floor when accessing the pulp chamber for future therapy.