International success with Austrian dental technology
The W&H Group is one of the top leading manufacturers of rotating dental instruments in the world. Established in 1890 by the precision engineers Weber and Hampel, the company was acquired by the Malata Family in 1958. Innovative product and service solutions, a strong focus on research and development, vision and social responsibility have made W&H a successful local and global player. The long years of partnership of W&H and Dental Domain Corp. is a garant for innovative products and reliable service.
W&H Synea Turbines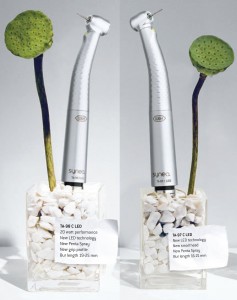 Synea TA-97 C LED
With the newly developed TA-97 CLED, W&H presents a completely new turbine solution for standard applications. Innovative LED technology ensures daylight quality illumination. Its small head with Penta Spray for optimum cooling significantly simplifies the access to the treatment area.
Synea TA-98 C LED
The extremely powerful TA-98 CLED  with its 20 watt is the perfect turbine for applications with bur lengths of 19-25 mm. The TA-98 CLED also provides LED technology and Penta Spray.
W&H Synea Contra-angles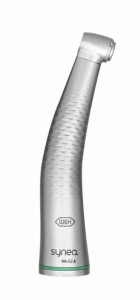 Synea WA-99
The difference may look small.  But it has a big effect: thanks to the new narrow heads for the Synea contra-angle handpieces, your field of vision is maximized, as is your enjoyment of your work. Because the small head – with the new Penta Spray for optimum cooling from five directions – ensures clear and all-round views.
Synea Range
Synea Turbines & Contra-angles
Being one step ahead of the rest: with innovative technologies like the LED lighting integrated in the turbines or the newly developed Penta Spray for optimal cooling from five directions. With contra-angles benefiting from new, small headsizes that provide a much better access to the treatment area. With products based on
a unique material concept and on more than 100 years of experience in the construction of precision dental instruments. With the new Synea.

Synea Airscaler


Prophylaxis with style Regular calculus and plaque removal leads to a much greater sense of well-being and self-confidence amongst your patients.  The air-powered scaler Synea ZA-55 with an integrated cooling spray and large optic eye is the ideal treatment device for mechanical removal of plaque and calculus, as well as for cleaning root surfaces. It works gently and effectively. The Synea scaler package is rounded off by a comprehensive range of top-quality tips.
Synea Endo Cursor
ENDO Cursor – Contra-angle handpiece  Compared with manual techniques, the mechanical root canal preparation with root canal hand files is faster, more cost effective and makes treatment easier.
The main features at a glance:
medical Endo-process
integral spray
large optic outlet, compact glass rod
small head – improved visibility
press button chuck system
optimum hygiene, comfort and grip through the Monobloc design
quiet running and long lasting
Synea Profin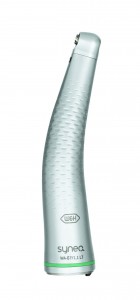 The Profin® contra-angle handpiece was developed for application in subgingival, interdental and proximal areas, as traditional rotating instruments do not always create satisfactory results here. The oscillating stroke movements of the inserts grind, file and polish natural tooth substances and restoration materials
finely, precisely and safely. The small head, light, single spray, monobloc design and new grip profile all
make Profin the perfect partner for the following applications:
Safe and efficient reworking of excess filler material, cement and bonding.
Removes deposits and micro-organisms, particularly in tooth pockets.
Thorough cleaning and polishing of proximal and interdental areas, as well as subgingival surfaces
Fine polishing with wooden tips
Shaping and adjustment of papillary areas to natural tooth forms
Grinding of concave front tooth guiding surfaces
Fine processing of grooves and cavities
Alegra turbines
Reliable, durable and compatible.
Thanks to its versatile coupling system, the Alegra turbines are compatible with all popular units. Together with it's elegant and robust design this makes the new Alegra turbine range the ideal equipment for everyday situations.
The main features at a glance:
compatible coupling versions

ceramic ball bearings

triple spray

powerful and reliable performance

maintenance-free hygienic head system

sterilizable and thermodisinfectable
W&H Alegra Restroration & Prosthetics
Alegra Contra Angle
Independent LED light
Robust design
Contra-angle handpieces with internal spray
Contra-angle handpieces with external spray
Sterilizable and thermodisinfectable
Integrated water filter
Data matrix code
6-month warranty
Alegra Turbine
Compatible coupling connections
Triple spray
High performance
Maintenance-free hygenic ead system
Sterilizable and thermodisinfectable
6-month warranty
The W&H RC Series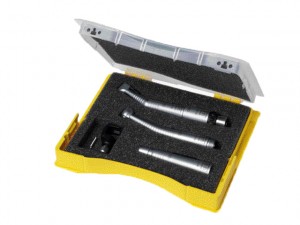 A lightweight air-motor of excellent performance, a contra-angle which facilitates perfect view and handling, a straight handpiece, the shape of which guarantees perfect application and finally – the new W&H RC 95 highspeed with 11 Watts of power and press-button. The RC Series are available as single instruments as well as different sets.
Assistina 301 plus – Maintenance System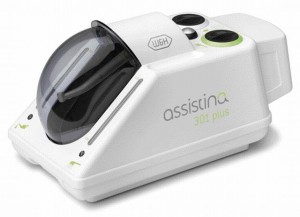 Automatic instrument maintenance procedures provide distinct advantages for correct cleaning and lubrication as well as perfect function and long working life of dental instruments. It is simple, safe and cost-reducing. Assistina, the air-driven maintenance unit for:
straight and contra-angle handpieces
turbines
air motors
air-driven scalers from all major manufacturers.
Entran

With Entran, W&H
presents its interpretation of a cordless handpiece for root canal preparation. Regardless of whether the crown-down or single-length technique is preferred: Entran allows for delicate, safe and reliable work.
There are numerous advantages to using the handpiece during root canal preparation e.g. the 5 torque levels. Entran changes the direction of rotation independently once the preset torque is reached. Thanks to the durable li-ion rechargeable battery, it is possible to carry out up to 30 treatments without having to recharge the battery. The specially shaped contra-angle handpiece allows you to work comfortably.
Perfecta 900
Therefore, when developing the new Perfecta range, particular value was placed
on ease of handling and the ergonomically innovative design.Unlike the traditional laboratory turbine, Perfecta 900 is perfectly suited to processing all materials right up to zirconium oxide and other high performance ceramics, owing to its optimized speed and speed-increasing handpiece.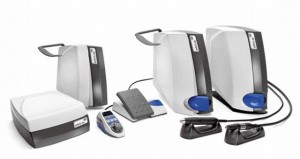 Perfecta 300/600
A wide variety of materials, top-level requirements, constantly changing prerequisites – the daily bread of dental technicians. With Perfecta 300/600, you have a powerful laboratory device at your fingertips which can be used for a variety of purposes and which can bring your ideas and those of your customers effortlessly to life.LISA Sterilizers
Prozone

the new ozone generator by W&H, you will discover the unexpected powers of disinfection. Suitable for use in virtually all aspects of dentistry, it is highly effective in the prevention of inflammation and infection.
The main features at a glance:
no residence time
reduced treatment time
easy to manage
convenient to use
overexposure is not possiblePyon 1
Pyon 1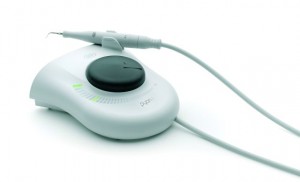 The basic piezo scaler from W&H, has been specially developed for us
e within the fields of prophylaxis and periodontolgy. Pyon 1 is easy to use and ensures perfect treatment results. Beside its outstanding price/performance ratio Pyon 1 incudes 1U and 3U tips from the new W&H tip range. Universal tip 1U is made for coarse removal of subgingival and supragingival calculus in all quadrants. Universal tip 3U has been developed for fine scaling in the supragingival region.
Pyon 2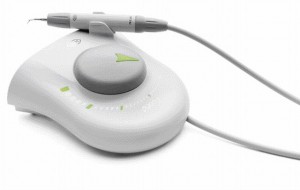 Pyon 2: the LED piezo scaler for use in the areas of scaling, endodontics, periodontology and micro-preparation. Thanks to the new W&H piezo scaler, you can be sure to achieve the best results in all applications. The LED ring in the handpiece allows for much more thorough, precise work. The patient's tooth colour can be reflected exactly and you are able to see contrasts much more clearly. A range of tips perfectly tailored to each individual application is essential for this – and is just as much part of Pyon 2 as the one-year warranty.
Implantmed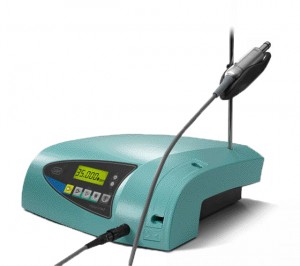 Intelligent design is apparent from the detail. What does it take to make a piece of equipment like the Implantmed superior to any other drive unit for dental surgical applications? Is it simplicity of operation? The remarkable number of programs? The sophisticated software? The powerful motor?
The ergonomic design? It is of course all of these. At W&H your requirements – and those of your patients – take priority. And this means that every W&H product is a well thought out piece of precision workmanship, whose intelligent design is clearly apparent, down to the minutest detail.
Surgical handpieces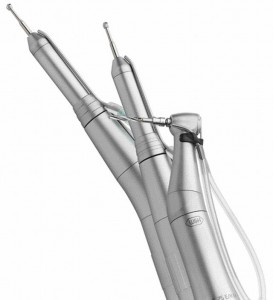 W&H has developed a series of straight and contra angle handpieces for maxillo-facial surgery and microsurgery, which in addition to other advantages are distinguished by their reliability. This is advantageous for both to surgeon and patient.
The main features at a glance:
reliability resulting from durable design
long life – resulting from high quality stainless steel
slender shape – good view
sterilizable, thermo washer disinfectable
Surgical instruments with LED and generator – Superior operation with daylight quality light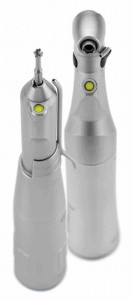 The W&H surgical instruments with LED (Light Emitting Diodes) produce a pure
white light autonomously. This is through the integrated generator, which supplies energy to the LEDs in the SI-11 LED G and WI-75 LED G handpieces.
With their neutral white light, our LEDs prove themselves to be the ideal light source. That means that, irrespective of your drive system, you can have daylight quality light in your treatment area.
Surgical Saw Handpieces Working in all directions with our surgical saw handpieces S-8 R, S-8 S and S-8 O.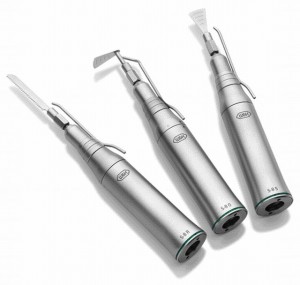 The three models offer a perfect and long-term solution for osteotomy or bone removal with sagittal, oscillating or reciprocating movement. Forward-looking technology from W&H. Well thought out dental instruments whose outstanding quality and ergonomics are irresistible.