Jiffy™ Original Composite System
Composite Polishers

The time and effort you put into to crafting quality, natural-looking composite restorations can be of little use if the composite is not finished correctly. The fine nuances of a restoration can be compromised if you use inferior finishing instruments or skip steps in shaping and polishing your restorations. By using the polishers in the Jiffy Composite Adjusting and Finishing Kit, you'll be able to efficiently achieve a high-quality, natural finish on all of your composite restorations without getting shortcut results.
Excellent for contouring, finishing, and polishing composites such as Mosaic™ universal composite, Amelogen™ Plus composite, and Vit-l-escence™ esthetic restorative material
Autoclavable
Made of abrasive, silicon-impregnated rubber
Free of natural rubber latex
Grits:
Green – Coarse
Yellow – Medium
White – Fine
Blue – HiShine™
Kinds:
Jiffy Regular and Pointed brushes
Composite Brushes
Jiffy Regular and Pointed brushes are impregnated with silicon carbide polishing particles to give an excellent final polish.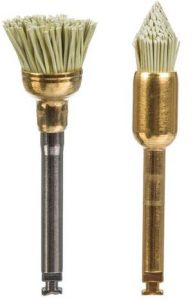 Jiffy™ Goat Hair Brush
Constructed of fine goat hairs
Use with Ultradent™ Diamond Polish Mint
Use with moderate to firm pressure and high RPM in slow-speed handpiece