File-Eze™ EDTA Lubricant
File Lubricant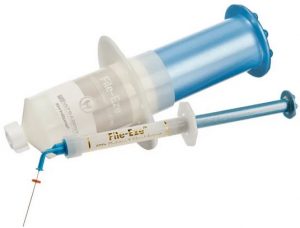 File-Eze file lubricant is an effective 19% EDTA in a water-soluble, viscous solution for chelating, lubricating, and debriding root canal preparations.
Peroxide-free; will not affect the set of resin sealers
The following lubricants contain peroxides that are not compatible with EndoREZ™ canal sealer: EndoGel,* EndoSequence,* Glyde,* ProLube,* RC-Prep,* and SlickGel ES.*
Ultradent™ EDTA 18% Solution

A root canal chelating agent that conditions/cleans through a chelation process, Ultradent EDTA 18% Solution is the irrigant of choice for smear layer removal and can be used as a final irrigant prior to obturation.
Consepsis™
2% Chlorhexidine Antibacterial Solution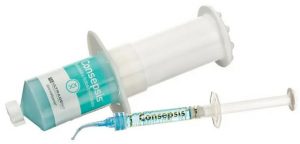 Provides the longest and most effective antimicrobial activity
Reduces potential for postoperative sensitivity
Increases bond strengths with dentin bonding agents
May ensure long-term bond strengths by inhibiting MMP action in the hybrid layers
Endodontic
Consepsis antibacterial solution is recommended for procedural endodontic disinfection, as a final endodontic rinse prior to canal obturation, and prior to pulp capping. Consepsis solution should be used after smear layer removal for canal disinfection. Sodium hypochlorite and EDTA solutions should be rinsed and removed prior to using Consepsis solution.
Note: DO NOT mix Consepsis solution (or any chlorhexidine solution) and ChlorCid™ solution (sodium hypochlorite) in the canal as a harmful brown precipitate will form.
Bonding
Consepsis solution is a 2.0% chlorhexidine gluconate solution free of emollients that interfere with bond strength.
Minimize post-op sensitivity by thoroughly cleaning and disinfecting the preparation prior to restoring. Use prior to cementation, luting (provisional and/or permanent), and direct restorative placement, as well as procedural endodontic disinfection. Disinfect with near-neutral Consepsis solution prior to pulp capping.
ChlorCid™, ChlorCid™ V, ChlorCid™ Surf
3% Sodium Hypochlorite Solutions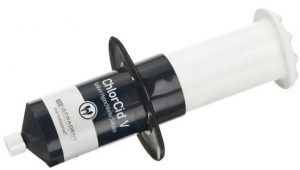 ChlorCid V solution is more viscous for enhanced flow control and lubrication, if desired.
ChlorCid Surf solution includes surfactant to modify surface tension. This allows irrigants to flow into remote areas of the root canal for a deeper clean.
Ideal for irrigation during endodontic procedures
Removes organic tissue during root canal therapies
UltraCal™ XS
30%–35% Calcium Hydroxide Paste

UltraCal XS calcium hydroxide paste is a uniquely formulated calcium hydroxide paste that is both aqueous and radiopaque, with a high pH (12.5). It is recommend to use the larger 29 ga NaviTip™ tip for predictable flow, enabling direct placement. UltraCal XS paste can be thoroughly removed from the canal using Ultradent™ Citric Acid and a NaviTip™ FX™ tip.
Second-visit protocol with an intertappointment medication with calcium hydroxide resulted in improved microbiological status of the root canal system when compared with a single-visit protocol.
Radiopaque
High pH
Superior at delivery control
Ultra-Blend™ plus
Calcium Hydroxide Liner

Ultra-Blend plus liner is a light-activated, radiopaque material with calcium hydroxide in a urethane dimethacrylate base. It's perfect for pulp capping and will not dissolve over time. Ultra-Blend plus liner is highly filled for minimal shrinkage.
Bioactive liner and pulp-capping material
Superior calcium release
Light curable
Controlled, precise syringe delivery
No mixing necessary
Will not dissolve over time
Radiopaque
Highly filled
Ultradent™ Citric Acid 20%
Root Canal Irrigating Solution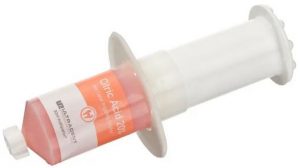 Ultradent Citric Acid is a mild acidic material that is effective at dissolving/cleaning calcium hydroxide from canals (e.g., UltraCal™ XS calcium hydroxide paste). It is also recommended as a cleanser/conditioner to remove smear layer from dentinal walls. Deliver with the NaviTip™ tip or the NaviTip™ FX™ tip.
Recommended as a cleanser/conditioner of prepared root canals
Removes mineral and smear layers
Slightly viscous formula facilitates lubrication